Are you planning on creating a new landscape for your home? If you are, there are several landscaping strategies you should know before you get started. Visit the website for tips that will help you make the most out of your garden and improve the look of your home.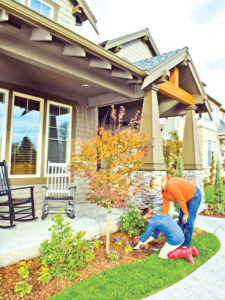 If you are thinking about designing or renovating a landscape, there are several water conservation landscaping strategies that you may want to consider. Some of these tactics include installing an efficient irrigation system, incorporating hardscaping into the design, and selecting water-efficient plants. While these measures may not be earth-shattering, they can go a long way in reducing your potable water usage.
As you consider the best water-saving landscaping strategies for your yard, keep in mind that the best method for reducing your household's potable water use is by maximizing your building's efficiency. This means not only using energy efficiently but also using recycled groundwater or rainwater harvested on-site.
There are many other options. These include purchasing efficient landscaping products, such as rain barrels, which collect excess water from downspouts. They can be paired with efficient irrigation systems and native plants, which are adapted to local climates and soils. In fact, many plants are able to survive on less water than traditional ones.
One of the most important elements of a water-saving landscape is the right plant selection. You want to make sure that you pick out the best and most appropriate plant to fit your yard. Plants are an excellent way to conserve energy, as they can be used to attract wildlife, block out unwanted views, and control erosion on steep slopes.
A good starting point is by performing a site analysis. Consider your soil conditions, the direction of the sun, and the slopes of your property. The grading of your yard should be considered as well. This will not only help channel runoff into a more manageable place, but it can also help reduce the need for supplemental irrigation in low-water use zones.
The best water-saving landscaping strategies can be found by combining several techniques, such as planting the right plant in the right place. For example, a wet meadow plant is a good bet, as it requires a bit less water than a traditional lawn. Another trick is to apply an iron-based fertilizer, which helps reduce water demand.
Energy-efficient landscaping strategies can help you reduce your energy usage while improving the appearance of your home. It also improves the quality of the air you breathe. You can save hundreds of dollars in heating and cooling bills in the process.
In addition to the sun, there are other ways to boost your energy efficiency. For example, trees provide shade and shelter from the elements. They act as natural windbreakers and deflect cold winter winds. Likewise, shrubs and vines can provide cooling during the hot summer months.
When it comes to reducing your energy use, a well-designed landscape can make all the difference. By placing strategically placed plants and trees, you can maximize your home's insulation, save on heating and cooling, and improve the ambiance of your outdoor space.
During the warmer months, a garden or patio with a pergola, gazebo, or patio cover can be an effective way to keep the cool air inside. Additionally, an insulated roof can give your home a degree of extra insulation.
Moreover, a well-placed trellis can offer solar protection for your southern walls. Vine trellis structures can also be used to create shade. Similarly, a strategically placed tree in front of your open wall can provide the perfect balance of shade and temperature control.
If you live in an area where you have to spend a lot of time indoors, you might be spending more on your energy bill than you should. Landscaping can be an investment that adds value to your property, as well as a source of savings for years to come.
The best part is that the results are measurable. An ISA-certified arborist can work with you and your project team to create a plan to enhance the diversity and longevity of existing trees. Another benefit is that trees when properly sited can offer protection from extreme temperatures.
Lastly, you might be surprised to learn that your home can actually be cooled by the sun. That's because the sun's rays are reflected back by a nearby canopy, which reflects the heat.
Considering that cooling accounts for nearly half of household energy usage, landscaping can be a wise investment.