Landscaping Designs
Landscaping designs can come in all shapes and sizes. Some people opt for a classic-style garden with a balance of hardscape and softscape elements. Others are environmentally-conscious and want to create an area where wildlife can thrive. Still, others want to create a contemporary garden or tropical theme. Others want to add an outdoor kitchen, fire pit, or swimming pool. No matter what your preference can customize your yard to meet your tastes and needs.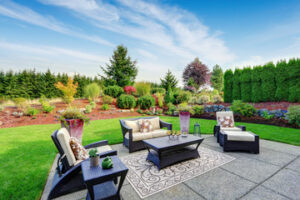 A typical design concept includes a transition between two parts of the landscape. A transitional landscape should be gradual. For example, a flowerbed that uses the same color is an ideal example of a transitional design. Similarly, a landscape that has too much space should be broken into segments. Adding screening plants will provide privacy and a natural boundary. The main advantage of creating a screening plant is that it is easier to maintain.
The design process begins with a basic outline of the project area. From there, detailed plans are developed. The final plan should be drawn, illustrating and depicting the area that needs to be landscaped. It should also include the boundaries of the project area. This way, any changes can be made easily. Often, a design can be improved without the client even realizing it. And while a landscape plan should reflect the aesthetic vision of the homeowner, it should still reflect the functional needs of the area.
Landscaping photos should focus on creating curb appeal. Low-maintenance plants like shrubs and flowers can enhance the appearance of the yard. In addition to flowers, you can also choose low-maintenance plants like succulents, bushes, and hedges. If you are not a gardener, you can still use landscape design ideas for low-maintenance properties. A water feature or birdbath is a great addition to any landscape design. A deck and patio with a barbecue or outdoor fireplace can be great additions to a primarily aesthetic yard.
Landscape design is an art form that involves planning, creating, and managing outdoor spaces. It can be used in a variety of applications and settings, from private gardens to large estates. It can also be used to improve environmental quality. A well-designed landscape attracts people and improves property value. A beautiful landscape can improve the mood of an area and enhance the individual's well-being. This makes landscaping design an important investment for property owners.
Landscape design principles are difficult for beginners. However, if you follow these tips, you can create a garden that is both beautiful and functional. And don't forget about the power of scale. Remember that repetition is the key to a unified, well-designed yard. And while it's tempting to go all out and introduce new elements throughout your yard, the occasional splash of color can do wonders for its design. In addition, you'll be able to create an outdoor space that compliments your home, not overpower it.
There are numerous landscape design principles that you can learn about. Helen Whitfield is an accomplished landscape designer and educator who has helped many people create beautiful landscapes for a small price. Her program teaches you how to design and implement a beautiful landscape without spending a fortune. Many people are hesitant to make changes to their landscape, but this program will help you design an affordable landscape with stunning results. You'll also be able to create the look that you've always dreamed of without spending an arm and a leg.
One of the most common landscaping mistakes is ignoring the symmetry of the environment. For example, if your landscape features a rock wall, it might be best to have a stone wall. This will make the space look bigger than it is. But if you want your front yard to appear tidier, you can use repeating flowers or different colors throughout your landscape. In addition to these two basic principles, you should also consider the placement of furniture.
Depending on the style and size of your yard, you can choose from different landscape designs. Ideally, you should incorporate any existing features and make your new landscape as low-maintenance as possible. Also, consider how much time you are willing to spend on maintaining the landscape. You can choose low-maintenance landscaping for a low-maintenance yard, or choose the traditional style if it suits your needs. A Utah landscaper will work with you to create the look you want.
You can also visit our other websites and post your article.
Caledon Plumbing, Elite Customs Tile, J and J Brothers Remodeling and Construction, Crown Leaf Tree Services, JVS Tree Service, Mary Land Internet Marketing, Orlando Cars Online, Whitall, Maddie B Photography, Online Business Savvy, Wi Business, Dental Office Contractors, Fire Retardant Coatings Texas, Trail Smart, Vegas Real Estate Homes, Aerial Merch, Affluent Merch, Steri Green, Maid Land Lodge, Ultra Internet Income, Icr 2011, Adventure 4×4, Bill Archibald, Richmond Home Inc, Valuation Litigation CPA, Solar Revolution Ltd, Paradise On The Trails, Tree Hill Landscape, Dr Mark Wiley, Notre Dame Apartments NH, We Are Voxtur, Home Grown Happiness, Eliza Chen, Poly Steel North East, Loris Health, Home Down Sizing Consultants, ETDN, Flagler Tennis Camp, Draft Supply, Yonkers Drywall