Trees can pose various risks to your property, including branches falling on cars or homes, root growth into your foundation, and limbs obstructing traffic flow. Professional tree services can help you protect your property from these hazards. Tree Service Irvine CA can also help you maintain healthy trees so they don't cause problems later.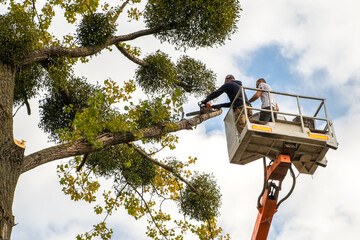 Trees have many benefits; professional tree services can help you reap the most. For starters, they help improve air quality and reduce noise pollution. They also provide privacy and security, helping protect you and your property from intruders. And they can also improve your home's curb appeal.
Lastly, trees can prevent storm damage by absorbing rainwater and reducing the amount of snow on your roof. In addition, tree service professionals are trained to remove diseased and insect-infected trees safely without damaging the surrounding vegetation or your home.
They may use a bucket truck to reach the upper limbs of a tree, or they might bring in a crane to lower the branches to the ground. Be sure to ask about the company's insurance, as this will likely save you from costly damages if a tree falls on your home. Make sure they have the appropriate liability and workers' compensation coverage.
Keeping Your Trees Healthy. Trees are a beautiful addition to any home or landscape, and keeping them healthy can add real estate value, as well as curb appeal. However, it's important to know that trees need regular maintenance and care to keep them healthy and strong.
The first step in keeping your trees healthy is to ensure that they're getting proper watering and nutrients. During the growth phase, mature trees typically need an inch of water per week.
Once your trees are established, continue to water them regularly throughout their lives. Young trees need more than mature ones and should be given a deep soaking at least once every two weeks.
You can also help your trees stay healthy by applying mulch around them. Mulch insulates the roots from lawn mower cuts, protects them from dry soil and reduces evaporation. It also helps protect the base of your tree from salt damage during winter.
Getting Rid of Insects. If you have noticed a recurring bug infestation in your tree or your property, it's time to call a professional. If left untreated, insect damage can progress at a rapid pace and destroy the health of your trees and your landscaping.
Boring and tunneling insects are particularly dangerous to tree health. These pests cut off the water supply to your tree and can weaken it over time.
Aphids are another common problem. They feed on the sap of your trees, which can prevent them from getting adequate moisture and nutrients.
These pests can also lead to fungal diseases, which can make your trees and shrubs look unhealthy.
Fortunately, there are several treatments that can help control these common pests. A professional tree service company will be able to get rid of any bugs that are currently invading your trees and protect them from future infestations. They will also be able to determine the extent of any damage and provide you with a long-term solution for your property's trees.
Getting Rid of Stump. If you're looking for a way to get rid of a stump, there are a few different options. You can either leave it alone and let it decay naturally, or you can use chemicals to remove it quickly.
Leaving a tree stump in the ground is not only an eye sore but can also be a safety risk. Moreover, stumps can attract pests like termites and carpenter ants that may cause damage to your home or other structures on your property.
Fortunately, you can hire a professional Tree Service to help with the process of getting rid of a stump. They will have all the necessary tools to complete this task safely and efficiently.